Marvel Attacktix: Wallow #GR-1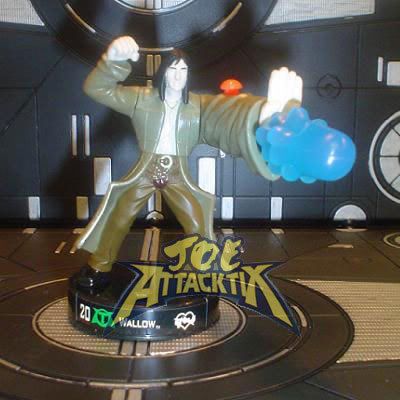 ATTACKTIX CLASS: Specialist
MARVEL CLASS: Hidden
POINT VALUE: 20
BASE SPEED: 4
DEFENSE: Medium Base
SPECIAL POWER: Attacktback (Hidden)
SPECIAL POWER RATIO:
ATTACK TYPE: Shooter (Large Missile)
RARITY: Starter - Rare

Brett's Notes:
Wallow rounds out the Hidden faction in the Ghost Rider sub-set. Nearly identical play wise to Abigor, Wallow brings redundancy to the Hidden faction. As a second trooper in the faction, there is plenty of room to add Hidden characters to a Trooper based squad. His unique water blast projectile is also a great asset, carrying the weight of a medium missile with the smaller tip of a small missile.

Joe's Notes:
Wallow is another Trooper for the Hidden. The basic theme through the hidden would be the elements, of which Wallow represents water. I know very little about this character, and far less about his role in the movie. However, it would be no surprise that Blackheart would be surrounded by Troopers, as he would not consider any ally his equal. Wallow's bullet is most interesting, as it is molded like a water stream... I will be excited to see how the bullet fares in battle!

Be sure to check out Web of Webhead and Master Attacktix for more Marvel Attacktix Spoilers, including The Thing.