Marvel Attacktix: Wolverine #M1-9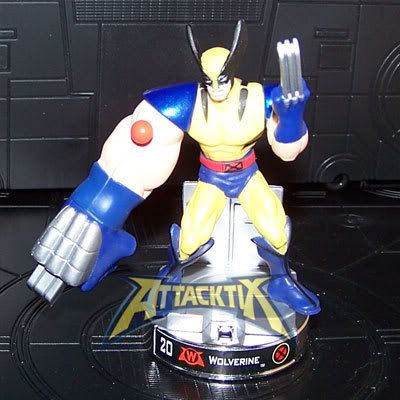 ATTACKTIX CLASS: Warrior
MARVEL CLASS: X-Men
POINT VALUE: 20
BASE SPEED: 12
DEFENSE: Medium Base
SPECIAL POWER: Recover (X-Men)
SPECIAL POWER RATIO:
ATTACK TYPE: Prodder (Claws)
RARITY: Booster - Super-Rare
EFFECT: Rage (X-Men)
"Rage" - If you have another X-Men in play, once per turn after defeating a Leader this figure may move six Tix and make additional attack.
Joe's Notes:
Wolverine is the only Prodder in the new Marvel Series. We have seen Tusken Raiders and Skyblast with a Prod Attack and they usually have the same stats as a Striker, but without the possibility of a multi-kill. This figure corrects that by giving you the chance to make an extra kill if you defeat a Leader. Wolverine and his Feral Rage can charge ahead 6 Tix and kill again.
Be sure to check out Web of Webhead for more Marvel Attacktix Spoilers, including
Captain America.