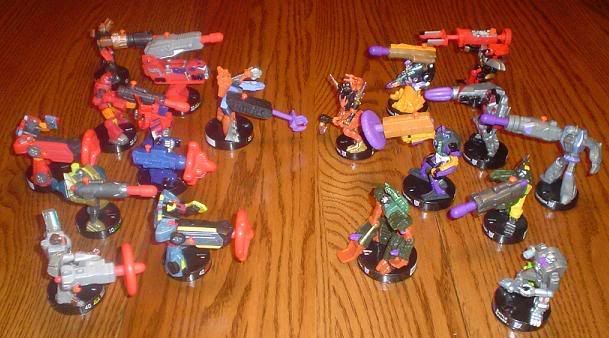 Here is the Transformers Series 1 "Yearbook Photo!" This should get you all very excited for the Transformers AND the Star Wars Series 4 coming out on the next few days!

There are lots of exciting new attacks for the Transformers line. We have a few new prodders in Skyblast and Ransack. Battle Ravage has one of my favorite new weapons, with his Mace that can really do some serious damage! Scorponok and his Scoop attack will take some getting used to, but it can really put a dent in the defense. And the new Energy Blast projectiles, included Optimus Prime's Gi-normous Blast, will definitely be welcome in my battlefield!

The Transformers have a very solid and exciting inaugural line, and they will work well with the Star Wars figures. The Autobots have a much more shooter-friendly squad, while the Decepticons have a nice mix of attacks. The new Megas in the Transformer line are awesome!
Be sure to check out
Web of Webhead
for the teaser of the previews to come!