RANSACK
#TF1-18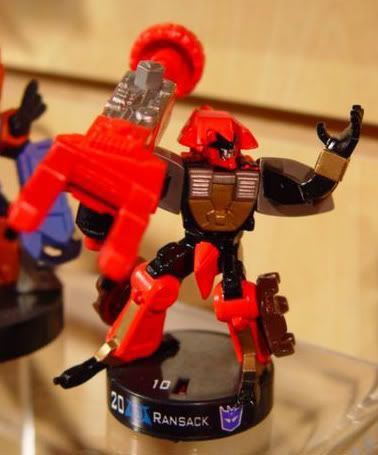 ATTACKTIX CLASS: Specialist
TRANSFORMERS CLASS: Decepticon
POINT VALUE: 20
BASE SPEED: 8
BASE: Small
SPECIAL POWER: Recover (Crumplezone)
ATTACK TYPE: Prodder (Twist and Throw)
As promised, I would show you a figure that works with Crumplezone, and Ransack is it! Not only that, but he features one of the more unique attacks in the Transformers Series: Twist and Throw. With a short extension burst, like the Tusken Raider, Ransack can use his fork to grab, twist and "throw" his opponent. The fork will not leave the weapon, but it will have enough force to toss around an opponent or two. With a small base, he may be easy to bring down, but he has the speed to get in close and cause some damage.
Be sure to check out
Web of Webhead
for Star Wars Attacktix Series 4 Spoilers - featuring Luke Skywalker (Endor Gear) and Princes Leia (Slave Leia)!
What's up with "Base Speed". Starting with these new sets, Attacktix figures have a new movement tracker. Instead of a printed number on the base, the figure speed is shown in the top window. Instead of just flipping from red to black, the window now shows the figures speed alternating between red and white text. All figures will have a base speed in line with previous figures, but speed dials can have "sweet spots" with an extra 'Tix of speed, or "weak spots" with a 'Tix less of speed.