LANDMINE
#TF1-12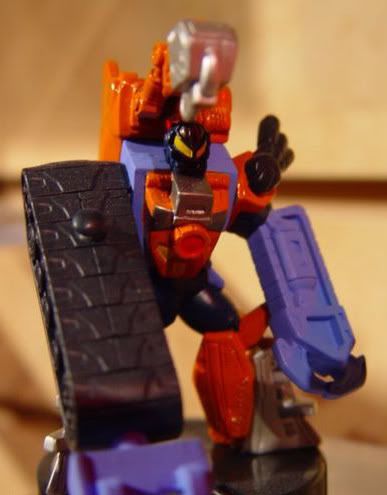 ATTACKTIX CLASS: Warrior
TRANSFORMERS CLASS: Autobot
POINT VALUE: 30
BASE SPEED: 10
BASE: Large
SPECIAL POWER: Shootback (3 X Minicon)
ATTACK TYPE: Prodder (Fist)
Landmine has an extending fist, similar to the prodding Tuskens in Star Wars Series 3. These punching, prodding Attacktix have been an exciting addition to the Attacktix line. They don't pack the group-smashing power of a Striker, nor the range of a Shooter, but they are deadly at close range. With a large base, and the power to have up to three Minicons return fire, Landmine should see a lot of action in your line-up!
Be sure to check out
Web of Webhead
for Star Wars Attacktix Series 4 Spoilers - featuring Biker Scout and Wicket!
What's up with "Base Speed". Starting with these new sets, Attacktix figures have a new movement tracker. Instead of a printed number on the base, the figure speed is shown in the top window. Instead of just flipping from red to black, the window now shows the figures speed alternating between red and white text. All figures will have a base speed in line with previous figures, but speed dials can have "sweet spots" with an extra 'Tix of speed, or "weak spots" with a 'Tix less of speed.