RODIMUS
#TF1-05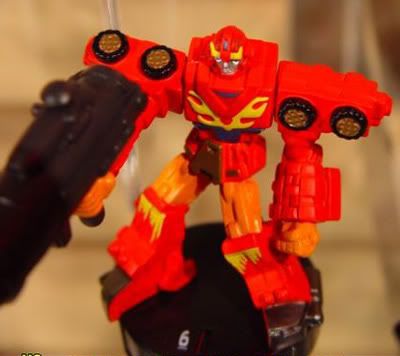 ATTACKTIX CLASS: Captain
TRANSFORMERS CLASS: Autbot
POINT VALUE: 20
BASE SPEED: 6
BASE: Medium
SPECIAL POWER: Recruit (Trooper)
ATTACK TYPE: Shooter (Small Missile)
Rodimus is a solid Autobot Captain, with the Special Power of Recruiting a Trooper. Rodimus is the only (non-Mega) Autobot that has the Recruit Power, so this is pretty important, considering the Recruit-esque power of Transform will be very useful in this Series. The large values of Optimus and Megatron will leave you with very little points to fill out your back ups. Adding Rodimus to your Autobot team will allow you to keep an extra Trooper in reserves, in case things don't go your way.
Be sure to check out
Web of Webhead
for Star Wars Attacktix Series 4 Spoilers - featuring the Sandtrooper!
What's up with "Base Speed". Starting with these new sets, Attacktix figures have a new movement tracker. Instead of a printed number on the base, the figure speed is shown in the top window. Instead of just flipping from red to black, the window now shows the figures speed alternating between red and white text. All figures will have a base speed in line with previous figures, but speed dials can have "sweet spots" with an extra 'Tix of speed, or "weak spots" with a 'Tix less of speed.