SUPER OPTIMUS PRIME (VEHICLE)
#TF1-14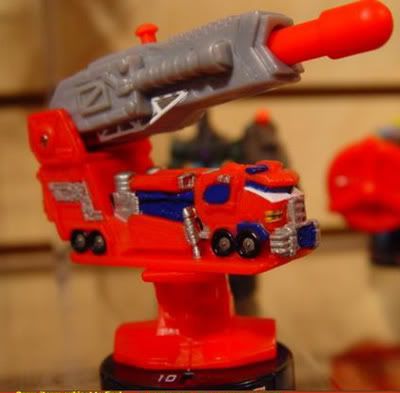 ATTACKTIX CLASS: Leader
TRANSFORMERS CLASS: Autobot
POINT VALUE: 30
BASE SPEED: 8
BASE: Medium
SPECIAL POWER: Transform (Super Optimus Prime)
ATTACK TYPE: Shooter (Small Missile)
Day Three of Transformers Attacktix Spoilers brings us a new Special Power: TRANSFORM. Transform will allow you to bring the alternate form of your figure into play. Super Optimus Prime as the truck can bring the robot form Prime into play (the Showdown version, too)! A 30 point leader with a small weapon may look below average, but its the Special Power that makes the figure. The complete power of the vehicle figures are not realized until you consider the strength of its Special Power. Odds will be in your favor that fully transformed Super Optimus Prime will hit the battle field, making the back ups very important.
Be sure to check out
Web of Webhead
for Star Wars Attacktix Series 4 Spoilers - featuring Admiral Ackbar and Grand Moff Tarkin!
What's up with "Base Speed". Starting with these new sets, Attacktix figures have a new movement tracker. Instead of a printed number on the base, the figure speed is shown in the top window. Instead of just flipping from red to black, the window now shows the figures speed alternating between red and white text. All figures will have a base speed in line with previous figures, but speed dials can have "sweet spots" with an extra 'Tix of speed, or "weak spots" with a 'Tix less of speed.
Thanks to Malform for pointing out my quadruple-posts. Blogger was quirky last night!