OMEGA SUPREME
#TF1-23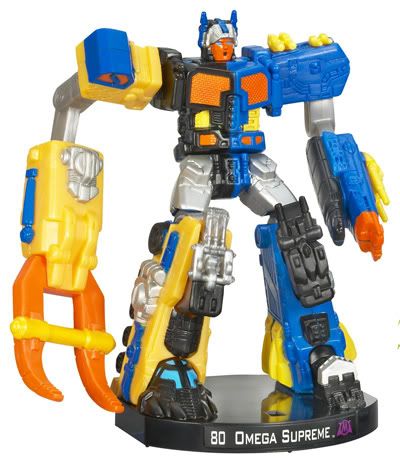 ATTACKTIX CLASS: Mega
TRANSFORMERS CLASS: None
POINT VALUE: 80
BASE SPEED: 10
BASE: Extra Large
SPECIAL POWER: Recruit (Autobot)
ATTACK TYPE: Striker (Figure Toss)
This 80 Point beast is going to throw away any old strategies, almost literally. His massize clawed arm can toss opponents into each other, creating utter chaos! Using 80 points will leave you with very little to work with, but how much more do you need when you have Omega Supreme on your team? Protecting the targets on his knees is all you will need to do with your remaining 20 points... that, and rushing in as quickly as possible.
Be sure to check out
Web of Webhead
for Star Wars Attacktix Series 4 Spoilers - featuring the Animated Clone Wars Republic Gunship Mega and Clone Pilot!
What's up with "Base Speed". Starting with these new sets, Attacktix figures have a new movement tracker. Instead of a printed number on the base, the figure speed is shown in the top window. Instead of just flipping from red to black, the window now shows the figures speed alternating between red and white text. All figures will have a base speed in line with previous figures, but speed dials can have "sweet spots" with an extra 'Tix of speed, or "weak spots" with a 'Tix less of speed.