VECTOR PRIME
#TF1-11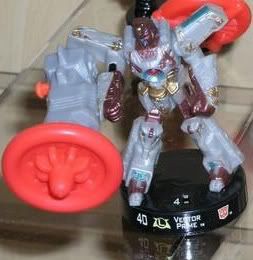 ATTACKTIX CLASS: Leader
TRANSFORMERS CLASS: Autobot
POINT VALUE: 40
BASE SPEED: 4
BASE: Medium
SPECIAL POWER: Vengeance (2 X Insecticon)
ATTACK TYPE: Shooter (Energy Blast)
Vector Prime is an excellent Leader. As one of the first Transformers he is a powerful, wise and incredibly ancient warrior, who has served as protector over Cybertron. This 40 point Energy Blaster is of the medium base variety. He can be a it costly, unless you are playing against a team of Insecticons... then his death may also eliminate two of his opponents.
Be sure to check out
Web of Webhead
for Star Wars Attacktix Series 4 Spoilers - featuring the new "Muddy Boots" Stormtrooper!
What's up with "Base Speed". Starting with these new sets, Attacktix figures have a new movement tracker. Instead of a printed number on the base, the figure speed is shown in the top window. Instead of just flipping from red to black, the window now shows the figures speed alternating between red and white text. All figures will have a base speed in line with previous figures, but speed dials can have "sweet spots" with an extra 'Tix of speed, or "weak spots" with a 'Tix less of speed.