This past weekend, we hosted a Marvel Attacktix Release Party at USF in Tampa, Florida, unfortunately the figures have only been spotted in Iowa and Missouri. We had a small turn out after advertising locally at the Tampa Comic Con and the Demolition Comic retail chain.
The feedback was excellent, and once Marvel Attacktix are in stores they will definitely catch the eye of anyone in the toy aisle. Joe Allard, from
Design Devil
did wonderful work on the booster cover art, and we should have an interview with him on this site very soon.
The event location was also a great one, we have three projectors going at once. On the main screen we showed the Ultimate Avengers 1 and 2, and on the two side screens we ran the Attacktix Demo DVD, so that we could explain the rules to newer players. We gave out a few prizes, and once Marvel Attacktix are in the stores, we will run the event again in order to give out some long awaited Marvel Attacktix awards!
Setting up the tables and projectors! Ultimate Avengers makes an excellent background for Marvel Attacktix.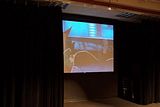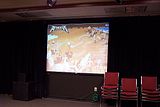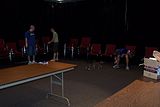 We sorted out the teams, and even had some Star Wars and Transformers teams to choose from. Mystique made it a habit of stealing the 40 Point Optimus Prime whenever she died.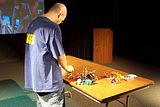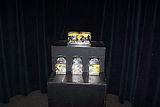 Some of us stayed around at the end for a large three-way battle.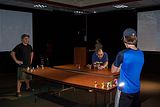 Thanks to everyone who showed up, and I hope to see you again next time!