Hey gang, welcome to the Toy Shop!
ANAKIN SKYWALKER
ATTACKTIX CLASS: Specialist
STAR WARS CLASS: Republic
POINT VALUE: 20
SPEED: 10
SPECIAL POWER: Attackback Qui-Gon Jinn
EFFECT:
"At the beginning of your turn, you may press Anakin's pack. If window shows green you may stand up one of your fallen figures during your opponents next turn."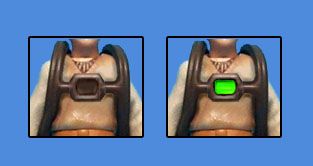 I'm of the opinion that almost every character that has appeared in the Star Wars flicks should also appear in Attacktix (yes, even
Jar Jar
) so we definitely need little Annie. His effect power reflects his ability to see things before they happen. Yes it actually recreates the power of Recover but think of it like this, little Annie uses the force to warn one of his teammates about an attack your opponent is about to make. You opponent fires and knocks Annie's teammate over but with Annie's warning the teammate is able to dodge the brunt of the attack and stand up again.