About three threads down you will find "The Buzz" about Star Wars Series 4. It was very clear at Toy Fair which Star Wars figrues we have not yet seen, but with Transformers things are a bit different.
Only 18 Transformers will be released in the Boosters, and four in the Starter, two of which will ALSO be in the Boosters. So, barring any repaints, we are looking at 20 figures right there. Throw in the Mega, packed with a normal figure, and the Intergalactic Showdown pack with an Optimus, Megatron and Mega... we are now looking at 23 DIFFERENT molds. Galvatron and Dark Scorpnok could shake things up, but still 23 seems about right.
Today, after nearly four months of searching, I found a clear shot of the Transformers packaging, complete with the figure order list.
After a lot of squinting, maybe you will see it, too.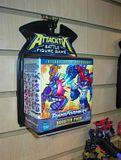 BOOSTERS

Rare
TF1-1. Mini-Con (Skyboom)
TF1-2. Omnicon
TF1-3. Decepticlone
TF1-4. Insecticon
TF1-5. Rodimus
TF1-6. Battle Ravage

Super Rare
TF1-7. Scourge
TF1-8. Starscream
TF1-9. Hot Shot
TF1-10. Excellion
TF1-11. Vector Prime
TF1-12. Landmine
TF1-13. Super Optimus Prime
TF1-14. Optimus Prime (Truck)
TF1-15. Scorponok
TF1-16. Megatron
TF1-17. Megatron (Jet)
TF1-18. Ransack

STARTERS (Numbers may be out of order)

TF1-19. Scorponok (Duplicate - maybe DARK Scorponok)
TF1-20. Omni-Con (Duplicate)
TF1-21. Skyblast (Jet)
TF1-22. Demolishor

TF1-23. Crumplezone (From Mega)

MEGAS

TF1-24. Omega Supreme
TF1-25. Omega Sentinel

IG SHOWDOWN

1G-1. Super Optimus Prime
1G-2. Megatron
IG-3 (TF1-25) Omega Sentinel

MIA (To be with Battle Case and/or Second Starter Set?)

STARTER SET 2?
Galvatron
Overhaul
Arcee
Skyblast

WITH BATTLE CASE?
Dirtboss

So, let's start talking. IF these are coming out in June, they are only weeks away!
To see all the figures mentioned above, click here!