Today was a busy day. Attacktix got a prime location on the convention floor outside the main hall, next to the Florida 501st, Vader's Fist Stormtroopers. The costumed Jedi and Sith troopers brought a lot of attention to our table and hours of fun. We had drawings for Jabbas, AT-RTs and Series 3 Starter Sets. We also gave out a bunch of Series 2 and Series 3 figures to anyone who played us in a demo, win or lose!
The event was a major success. So much so that we have enough interest to host an Attacktix Tournament at the next convention and we were invited to the Toys R' Us Transformers Fan Day in July. I will have more details soon.
Here are some pictures of our set-up.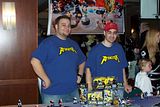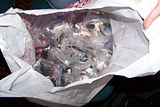 One of the 501st let me try on his helmet. It had four PC fans and a working microphone/ headset inside... very cool stuff. For more information on those guys, check out their
Florida 501st
website. We were very fortunate to have such a pleasant neighboring table. Also is a picture of my wife, Sapphira, posing with our table.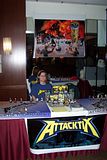 Here are some images of the convention. We had lots of people who had never heard of Attacktix before and some who brought their own figures. Princess Leia enjoyed playing as well.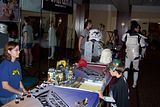 It ended up being a very busy day which was great. We only managed to get one of our winners to stay around for a picture. He left the convention with a free Jabba Mega!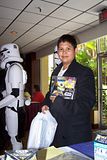 Special thanks to
Tim Gordon and his staff
for the great spot and the wonderful time.