Get the first peek at the latest figures to hit shelves in June. Click images below to see full size.
TRANSFORMERS:
The Transformer Series 1 Starter has both versions of Skyblast, (rumored to have the new "Transform" power) and long with Dirtboss and Overhaul. The Autobot/Decepticon ratio is a bit off, but it may be balancing out the ratio of the complete Series. Starscream looks deadly, and I can not wait to try out the Prodder on Ransack. Looks like the bike version of Ransack will use his front fork to eat up the Autobots. Sorry, I couldn't resist.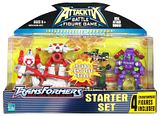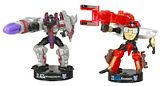 STAR WARS:
The new 10 Point Greedo will make him a steal. He has the value of a common Trooper, with the gun of Han and Chewie. Han and Chewie are, again, 20 point figures, and the Boba rounds out the Starter Set Bounty Hunter team weighing in at 30 points. The production shots of Princess Leia and the cannon look GREAT! What will that string do, besides limit her range? And finally, the Clone Wars painted Gunship is an excellent addition to Attacktix. Will it mean MORE Extended Universe characters?