Clone Trooper
#P-02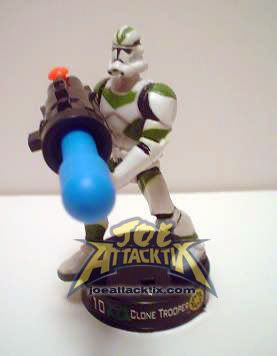 ATTACKTIX CLASS: Trooper
STAR WARS CLASS: Republic
POINT VALUE: 10
BASE SPEED: 4
BASE: Small
SPECIAL POWER: Recruit (Clone Trooper)
ATTACK TYPE: Shooter (Small Missile)
Hasbro has produced two new promo figures for the game which will be available at retail outlets later this year, attached to other products. Look for details to come. Today we preview the Star Wars promo figure, the Green Republic Clone Trooper.
The Clone Trooper is a familiar piece with basics stats and weapons. It is the first Clone Trooper to feature the Recruit ability, allowing for team dynamics like the Battle Droids.
Be sure to check out
Web of Webhead
in case you missed the Decepticline variant promo!