Darth Vader
#T1-09
Today concludes the new wave of Star Wars Attacktix Tournament Figures.
Be sure to check out the previous figures at
Web of Webhead
and
Master Attacktix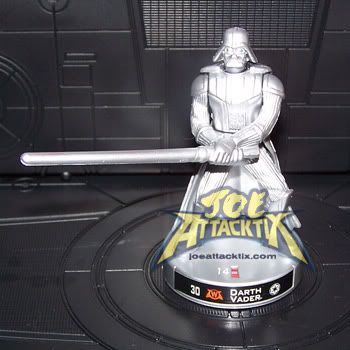 ATTACKTIX CLASS: Warrior
STAR WARS CLASS: Empire
POINT VALUE: 30
BASE SPEED: 14
BASE: Large
SPECIAL POWER: Sacrifice (Trooper)
ATTACK TYPE: Striker (Lightsaber)
In my opinion, we have saved the best for last. I am a huge fan of the Rebels and Light Side when I play, but this Silver Darth Vader is a strong figure. A speed bonus of two brings the Series 3 Lightsaber Vader up to 14. No other changes are needed, he is a monster. The figure has an excellent swing/strike and you can send opponents across the room. I would have loved to see him with all the same stats and a point value of 20, but I think that would make him unstoppable. The 20 point Silver Luke will be a worthy opponent, and make for a very exciting battle.
Be sure to check back here once SDCC starts up for information on how you can snag one of these tournament figures just for showing up.