The Transformers Fan Fest (
TransFanCon
) was a very exciting time for Transformers fans! The event kicked off with the Transformers Movie Trailer, which can also be seen
here
. The trailer had only just leaked onto the internet a few days before, and will soon appear before Pirates 2, so it was the first time many fans got to see it.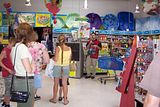 There were three private Transformer Collections on display, and the Fans' Choice Top 10 Beast Wars playing all day in the background. Barry, the event planner, also had tons of games and activities to help the day go by quickly.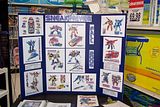 Guests at the Toys "R" Us hosted Transfancon were treated to almost $3000 in prizes, including the big screen TV that displayed the trailer and Beast Wars. Though we were not handing out TVs, we did entertain the crowds with the very first Transformers Attacktix demo and gave away a Free Intergalactic Showdown set! The IGSD pack was the only product on store shelves so far, so this was the first time for most fans to even hold an Attacktix figure!
There were a few Transformers fans who were already familiar with the Star Wars lines, but for most die-hard fans of the Bots and Cons they had no idea what was going on at our table. The Attacktix table was set up right next to the Speed Transformation and Color Tables, so there were a lot of passers by who sat down to play. The general consensus was that there was another collection to begin!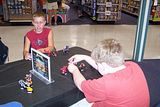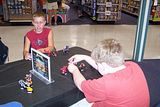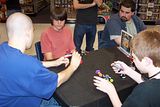 Optimus Prime and Megatron was some of the most popular figures, but Starscream and Vector Prime also had their share of admirers. The Battle Ravage figure, with his bright green Mace was also a big fan favorite. The event had a nice turnout, and our section (in TRU Clothing) got packed pretty fast. Missile and figures were flying left and right! It was a great introduction to the Transformers Attacktix line.