The most talked about piece in Attacktix Series 2 might just be the newtest Mega, the Republic Gunship. Worth 70 points, this might be the most unique figure yet. The Gunship is tethered to its base and can be lifted, "flown", and moved into any position you like, where you can make your attack. Then it is assumed that it is returned to its base.

(Pictures from Rebelscum.com and SirStevesGuide.com)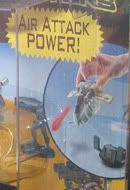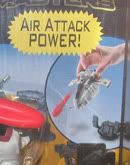 The figure has two large, flat panels, that jut out from the front of the base. These "ear" panels are most likely the two targets you need to hit to bring the ship down. However, thinking about the figure's movement and attack, one wonders if you can't leave the base facing away from the enemy when you make your attack. This could prove to be a very valuable figure, even at a high cost value!




As the late August/early September release date draws closer, we can do nothing but wait. Or we can wait AND strategize about how this Gunship will destroy my wife's chances of ever beating me in Attacktix again. (Because I sure do lose alot!)