Another installment of SFX's Toy Shop
One thing that really stands out for me when watching the prequel trilogy is, 'Darn, those Jedi are spry buggers!' They're jumping, hopping and flipping all over the place. The Jedi and Sith are know for using the Force to propel themselves in super human ways. When looking at your Attacktix collection you may ask yourself, "Why can't my Attacktix jump around?" Well, now they can (in an imaginary kind of way). I give you...
FORCE JUMP FIGURES
(original photos via Rebelscum.com)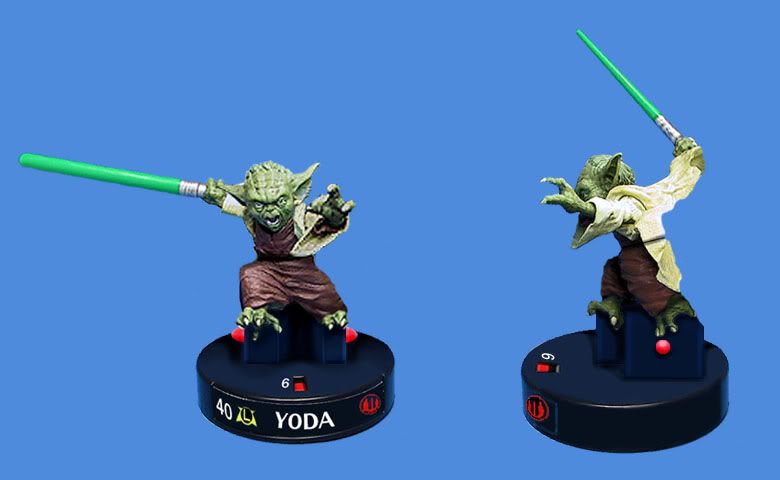 This
FORCE JUMP FIGURE
(Yoda) has 3 main parts.
A. STRIKER FIGURE
(functions exactly like a striker)
B. LAUNCHER
C. BASE
(functions exactly like attacktix base)
The
LAUNCHER (B)
has 2 buttons (more on this later).
How does he work?
1.
The
LAUNCHER
, which is attached to the base, has a small post.
2.
The
STRIKER FIGURE
has a small cavity running the length of it's leg. Inside this cavity is a spring.
3.
When the
STRIKER FIGURE
is attached to the
LAUNCHER
the post compresses the spring. The
STRIKER FIGURE
locks on to the
LAUNCHER
.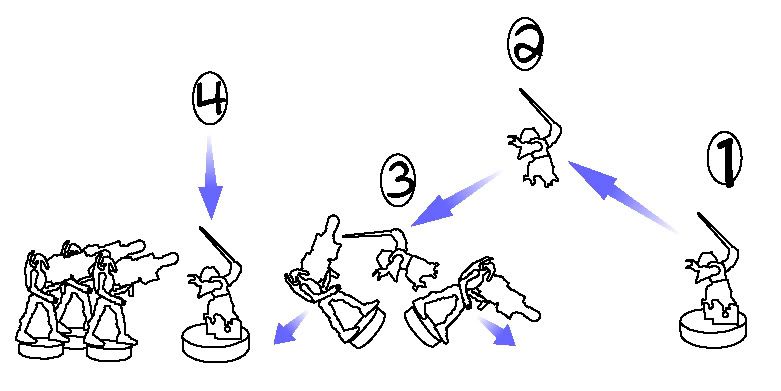 1.
When both buttons on the launcher are pressed the figure is released and flies off of the base under the power of the compressed spring. The launcher has 2 buttons that must be pressed at the same time for the figure to launch. This is to avoid any accidental launches when your opponent hits one of the buttons (although this would be funny and could show a Jedi jumping away from the blast).
2.
After the buttons are pressed your figure will fly thru the air. Force Jump Figures can jump anywhere from 8-12 ticks.
3.
Your figure will come crashing down upon your opponents figures. This is especially helpful for any bunched figures or can just be used to advance forward on the battlefield. The figure will be slightly heavier on the non-lightsaber side. Hopefully this will cause your figure to land lightsaber up and avoid any breakage.
4.
Wherever your Force Jump Figure lands he is reattached to his base and can continue the battle on your next turn. Your Force Jump Figure is also a striker giving you the choice of jumping or striking on any given turn.
Well, there you have 'em. Now that I think about it, perhaps I should've called these 'Launcher Figures'. The concept would work well on the Fett's, Jetpack Clones and Geonosians.
That's all for this Toy Shop. Join us next time for the...
Imperial Probe Droid