This is a sketch by Logan L. Lubera, artist and designer for Hasbro's Attacktix.
LOGAN LUBERA is from Ontario, Canada. 1990 saw him set for a sporting life, drafted to play Pro Football. Subverted into the world of drawing by a three-week sojourn at the Games Workshop design studio, all thoughts of football flew south. Since then, Logan has drawn for Image Comics, is now setting up his own studio, Bright Anvil Studios, and is soon to publish his own comic books. "The biggest thing to remember is you can never stop learning!"
He was providing free sketches at the SDCC. This sketch belongs to
"Darth Tater"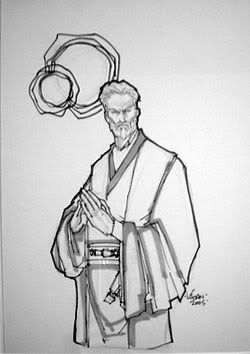 Here are some more links to Lubera's work:
http://universomarvel.com/bajolamascara/noticias/23_09_04/mage.jpg

And an interview about his upcoming Dark Horse Comic, Outlaw 7.