This Attacktix Commercial has been aired for over three months now. It has been sighted on WB, Cartoon Network, Nickelodeon and more, during children's cartoons.


This 15 second gem is reminiscent of the old G.I. Joe and Original Star Wars commercials of the early 80s. Which makes sense, 'cause it's still Hasbro!


Take a look here:
Attacktix Commercial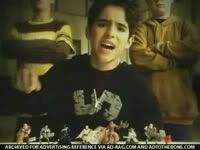 NEW:
This one is NOT taped off my TV
:)
I filmed this off the TV so the video quality is washed out, and the sound is a little "spacey". But if you don't have the time to commercial hunt, like my wife, then this will have to do!
Thanks to Sapph for watching hours of cartoons.