Malform, on the Attacktix Forum, has brought to our attention that newer Booster Boxes of Attacktix now contain revised figures. Yoda now comes with his other hand glued to his lightsaber. I have always noticed that his saber hand would always bend a little too much for my liking, and if the saber would stay in his free hand, it would put my mind at ease. He has been known to break after all. I contemplated adding some clear rubber bands, but with this new release, it looks like it is now tournament legal to have his hands glued to the saber.
Malform also noticed a difference in the grade of plastic used on his Grievous Bodyguards. They are now made from a more rigid, stiffer plastic. I bought a new Booster Box myself, and was pleased to find the Bodyguard IS a much tougher figure, not so "weak in the knees", so to speak.
I also noticed the on my revised Grievous Bodyguard his Electrostaff is now facing the other way. The staff has a skinny portion, for the hands to grasp, and a fatter portion, to keep the hands from slipping out of place. My three previous Bodyguards all had the length of the staff to their right. My newer, more rigid Bodyguard has the lengthier end of his staff on his left.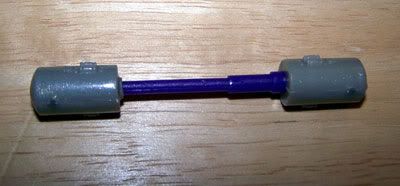 I do not know if this is a mistake, or also a planned part of the revision. Anyone that can compare a new and old figure, please let me know.