Marvel Attacktix: Daredevil #M1-16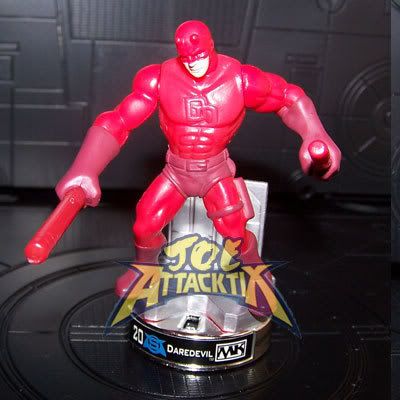 ATTACKTIX CLASS: Specialist
MARVEL CLASS: Marvel Knights
POINT VALUE: 20
BASE SPEED: 12
DEFENSE: Small Base
SPECIAL POWER: Evade (Marvel Knights)
SPECIAL POWER RATIO:
ATTACK TYPE: Striker (Club Uppercut)
RARITY: Booster - Super-Rare
EFFECT:
Fearless (Warrior)

"Fearless" - If [this figure] defeats a Warrior figure with a higher point cost than [this figure] that attack does not count as one of your attack actions.

Brett's Notes:
So how do you capture the "Man Without Fear" in Attacktix form? You start with a great sculpt and a powerful billy club attack. But to take it a step further and try to get to the essence of the figure, I came up with the "Fearless" effect. Fearless was the first Marvel effect I designed, and it stayed very close to my original concept throughout development. Daredevil rewards your team by taking on opposing Warriors that have a greater point cost...proving that Daredevil is fearless in the face of ostensibly more powerful foes. Note that the attack is "free" only if it successful, so if you have an appropriate target, make sure to use one of your first two attacks with Daredevil. If the attack succeeds, then the attack action costs you nothing and you can spend that action on another figure. (If it fails, it uses your attack action like normal.) Finally... Daredevil's Evade Special Power allows him to share his danger sensing Rader-Sense with the rest of his Marvel Knights teammates, allowing them to be free from attacks on the turn following Daredevil's demise.
Joe's Notes:
Daredevil's has an uppercut attack, using one of his billy clubs. We have seen the uppercut used with Series 3 Chewie, and more recently with Venom, who both have large hands/striking areas. Daredevil's billy clubs are like using a lightsaber to attack upwards... so it is a little awkward at first, but if you attack the appropriate limbs and extremities, you can flip most figures. The new effect Brett designed is useful in all lines of Attacktix, since it targets Attacktix Classes and not the Marvel class. Daredevil can get you a free attack by defeating Vader, or the slew of other Star Wars Warriors. His Special Power is great for building a Marvel Knights team, including some characters we have already reviewed like Electra, Punisher and Ghost Rider.
Be sure to check out
Web of Webhead
and
Master Attacktix
for more Marvel Attacktix Spoilers, including
Western Ghost Rider
.