Marvel Attacktix: Doctor Octopus #M1-15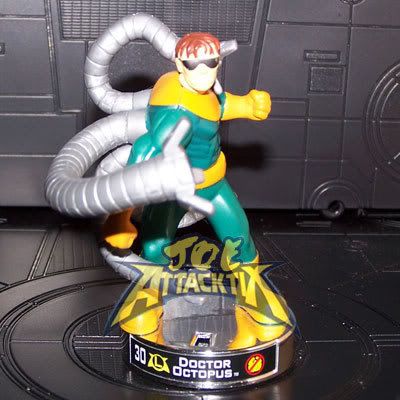 ATTACKTIX CLASS: Leader
MARVEL CLASS: Sinister Syndicate
POINT VALUE: 30
BASE SPEED: 10
DEFENSE: Medium Base
SPECIAL POWER: Stun (Spider-Man & Marvel Knights)
SPECIAL POWER RATIO:
ATTACK TYPE: Striker (Tentacle)
RARITY: Booster - Super-Rare

Brett's Notes:
The leadership of the Sinister Synidcate is always up in the air, sometimes it's Green Goblin and sometimes it's Doc Ock. Aside from his role as a Leader, Doc Ock also bring an impressive Striker attack to the table, his curved tentacle making for a perfect striking surface. Speaking of his tentacles, we've seen both in the movies and in the comics the way in which they almost have a life of their own...to try and capture this, Doc Ock has Stun...even when he's knocked out, his robotic limbs can continue to flail away and fend off the heroes. Being able to target both Spider-Man and Marvel Knights figures helps expand the range of this power.

Joe's Notes:
Doctor Octopus and Green Goblin have found their way into the first series of Marvel Attacktix and they deserve it. Not only are the long-time foes of Spider-Man, but they are very powerful and out for blood. Doc Ock's figure falls right in line with the comic, stunning Spidey and his usual group of allies should he fall in battle. Doc Ock often uses his tentacles to move around in battle, making his speed is a bit slower, but a sturdy method to hold his ground. With a speed of 10, and a medium base, Doc Ock will certainly square off against many costumed vigilantes.

Be sure to check out Web of Webhead and Master Attacktix for more Marvel Attacktix Spoilers, including The Thing.