Marvel Attacktix: Gambit #M1-17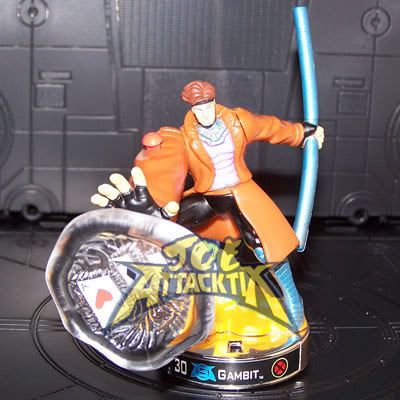 ATTACKTIX CLASS: Specialist
MARVEL CLASS: X-Men
POINT VALUE: 30
BASE SPEED: 4
DEFENSE: Medium Base
SPECIAL POWER: Rescue (X-Men)
SPECIAL POWER RATIO:
ATTACK TYPE: Shooter (Charged Card Blast)
RARITY: Booster - Super-Rare

Brett's Notes:
Raised a master thief, kindred spirit to Storm, on again off again with Rogue. Even though Gambit still seems like one of the "new" X-Men, he's been around for a while now. He definitely has the "bad boy" motif going on...Specialist seems to be a good class for him...making him similar to the Bounty Hunters in the Star Wars Universe. Rescue in his case represents his ability to get out of sticky situations and end up on top. As a launcher with a 52 pick-up attack, Rescue works well to take him out of harms way, but still allow him to attack from range.

Joe's Notes:
Gambit is represented well in his first Attacktix incarnation (will we see a Striker version?). His card tossing is captured in the standard Force Blast projectile, with small cards embedded inside. As long as he is played with other X-Men, his power is strong, which could be said for his role in the comics. The figure is designed in a leaping pose, which gives him tiny legs, but other than that he is well detailed holding his staff. His Blast is very powerful, and at only 30 points he should see a lot of playing time on any X-Men team.

Be sure to check out Web of Webhead and Master Attacktix for more Marvel Attacktix Spoilers, including The Thing.