AT-RT #37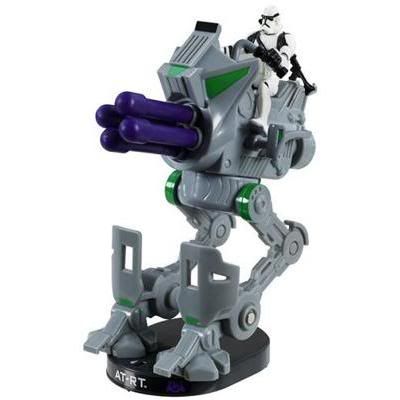 ATTACKTIX CLASS: Mega
STAR WARS CLASS: None
POINT VALUE: 70
SPEED: 4
SPECIAL POWER: Recruit (Trooper)
SPECIAL POWER RATIO: 4/26 (15%)
ATTACK TYPE: Shooter (Blasts)

UPDATE:

Email to Hasbro Customer Service:
Q: "When the AT-RT attacks, can it change where it is aiming after each of its four shots? Or, does it have to shoot all of its missiles towards the one direction it has pointed its weapon?"
A: "Thank you for contacting Hasbro, Inc.
Once you begin firing, your figure cannot be moved.
We appreciate having the opportunity to assist you.
"
This is a great figure. Great intentions, but we know you hate it when you fire a direct hit from across the table and the Target Spot bounces back into place. I wish I could take credit for this, but I can not. Graham Smallwood from Board Game Geek suggests using a rubber band to make this figure react like it was intended to.
I purchased some clear rubber bands, the kind found in the hair product section of Target. I only used these so it would not detract from the figure, but normal rubber bands are fine.
I took one and double wrapped it around the lip that sticks out of the back of the knee. Then I pulled the rubber band under the base. Finally, for my figure, I pulled the rubber band up between the two big side toes, and then stuck it under the circle that the legs pivot on.
Repeat this process on the other leg. The specifics placement of the rubber bands is not crucial to game play, just to the look of the figure.
Now take a shot at the AT-RT from across the table and enjoy the fact that if the Target goes down, it STAYS down. Even more enjoyable is watching the AT-RT topple over on top of one of its allies.